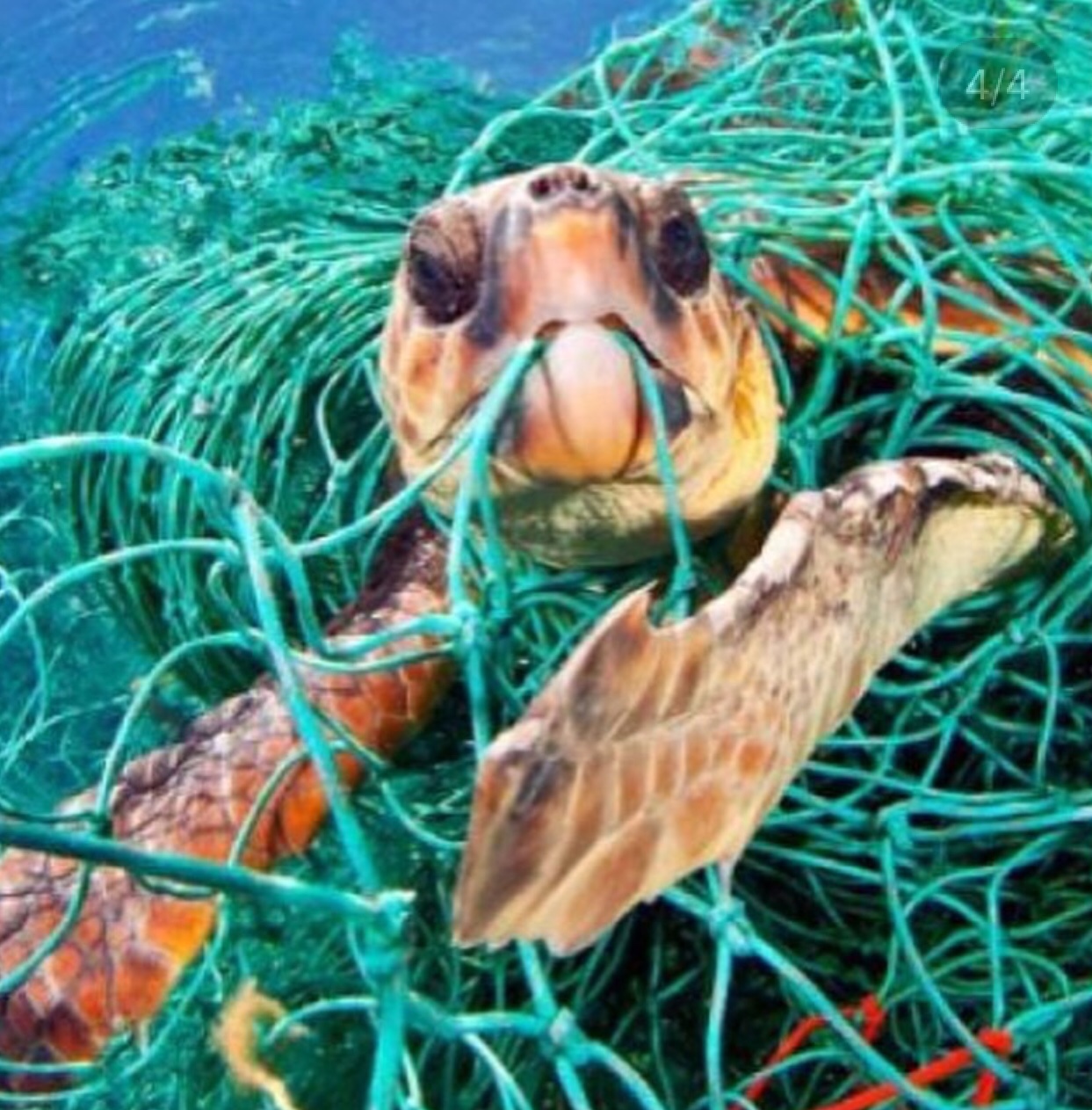 These silent killers can travel vast distances and are difficult to track. Ghost nets will entangle, and eventually kill marine creatures like sea turtles, dolphins, fish, sharks, seabirds, whales and other living creatures. And thats just the start of it. The dead rotting catch attracts scavengers who in turn also become tangled and the cycle continues. In some cases floating nets become so laden, they sink to the bottom of the ocean. When the ensnared catch rots away the net floats back to surface to do it all again. These nets are designed to catch sea life. They are designed to last. Now discarded from their vessels they roam indiscriminately, unwittingly killing off the very lively hood they were designed to build. Henley Festival hosted eco-designer Linda Thomas to showcase her Ghost Net Dress. Made from fishing nets removed from the ocean , this thought provoking live installation Co-ordinated and organised by Julia Carey from Henley Plastic Reduction with support from The Salon Of Chi and local models and activists presents a powerful message.
Day 1 – Henley Festival 2019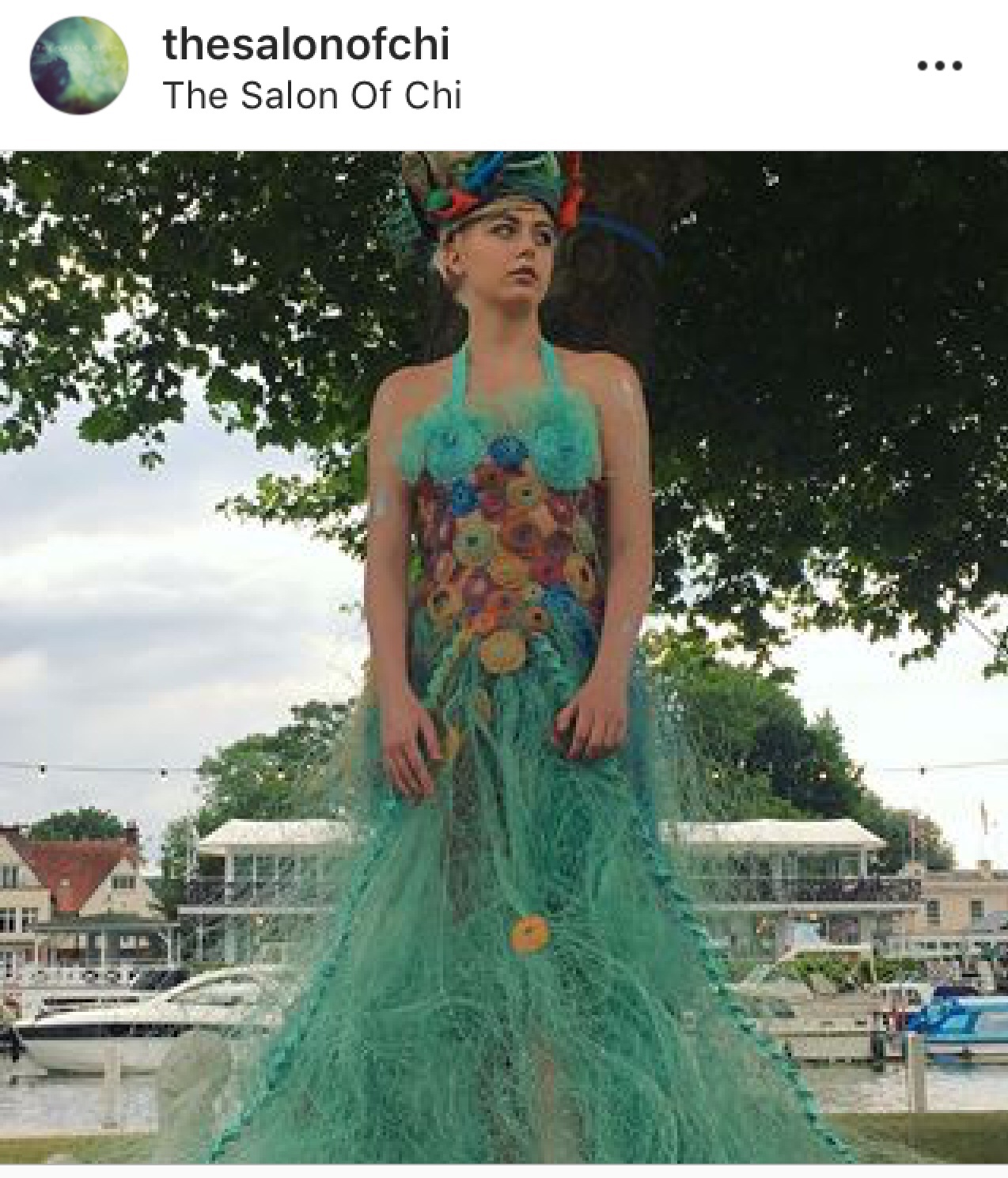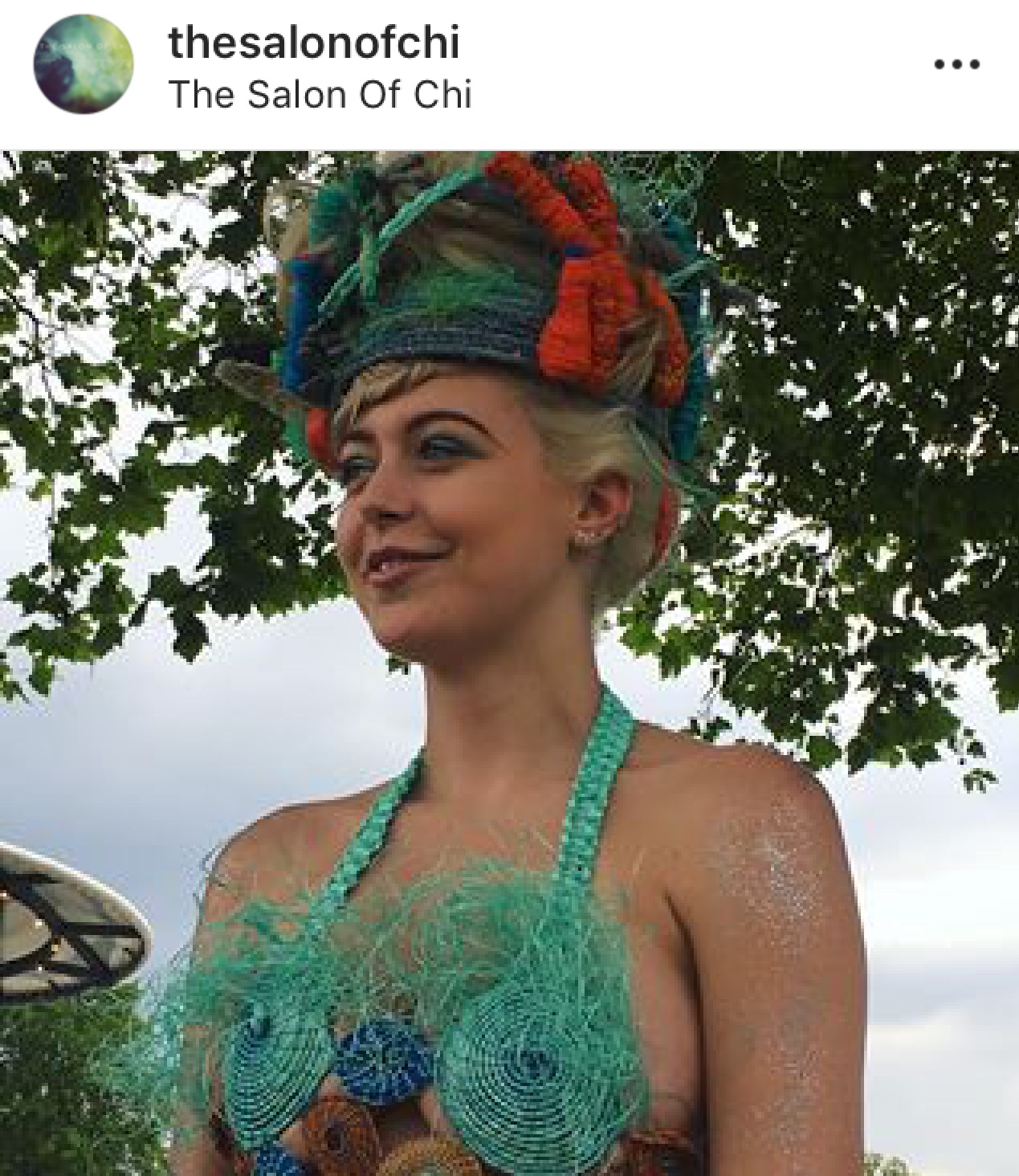 Hair Design Salon Director Nicole. The crown by Kittie Kipper, Modelled by Ellie Perryer.
---
Day 2 – Henley Festival 2019
"Channelling our Eco Warrior"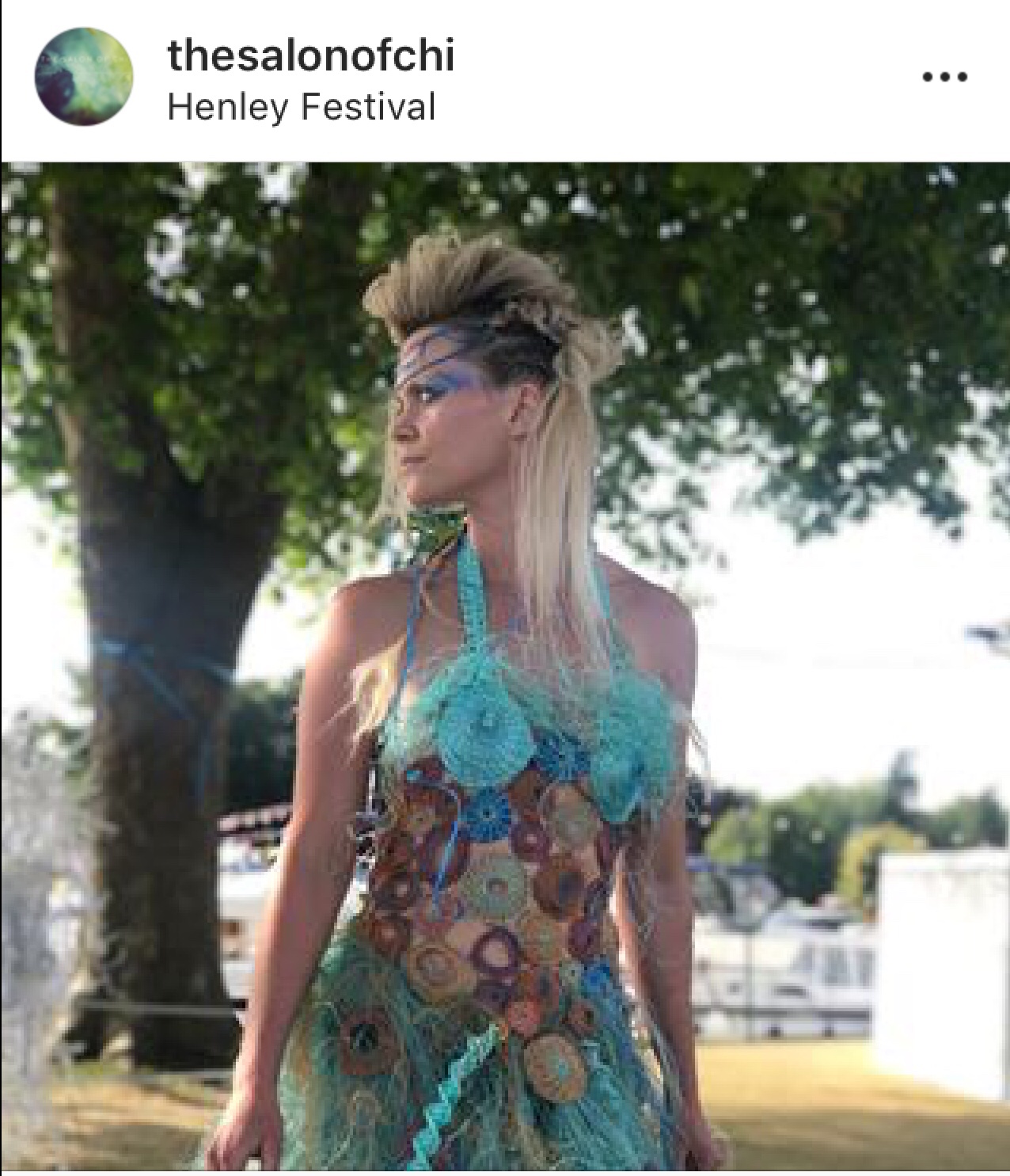 Ghost Net Dress Designed by Linda Thomas Eco Design. Hair by Sam – The Salon Of Chi using Oway – Biodynamic Organic Hair care. packed in amber glass, farmed bio-dynamically and ethically produced. Model- Laura Poole @Fathoms Free are an organisation run by volunteers that try to rescue the net by working with fishermen.
---
Day 3- Henley Festival 2019
"Mermaid Magic meets the Warriors on Waste! "
Modelled by Lynne Lambourne – an Activist – raising awareness of waste and sustainable interior designer working her up-cycled magic. Crown – made by Kittie Kipper fibre artist and activist working with ghost net and marine plastics. Endeavouring to awaken hearts to keeping are oceans clean. Hair by – Sam – Artistic Ambassador – The Salon Of Chi All under the watchful eye of @henleyplasticreduction and Julia Carey – a local jewellery designer who's mission is to help Henley on Thames to become a plastic free town. These are strong and powerful ⭐️siSTARs ⭐️ speaking their truths and hoping to make a difference.
---
Day 4- Henley Festival 2019
Raising awareness of plastic pollution in our oceans with this live installation.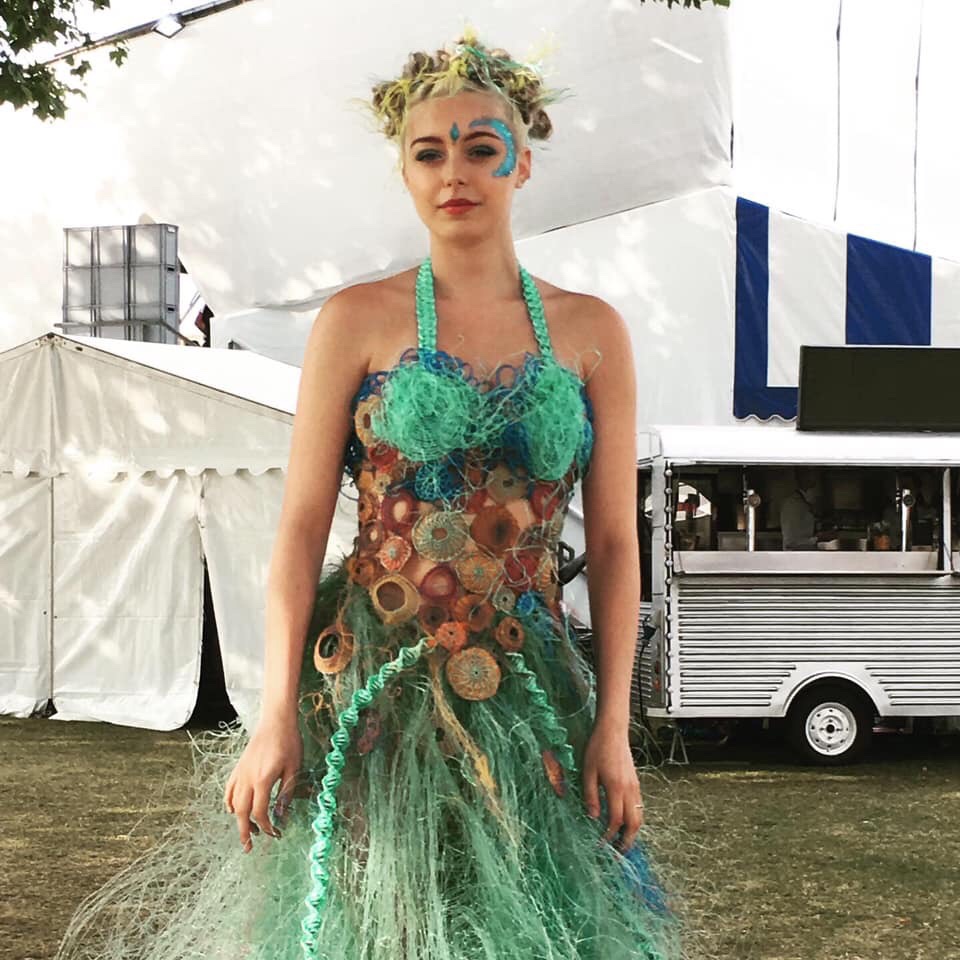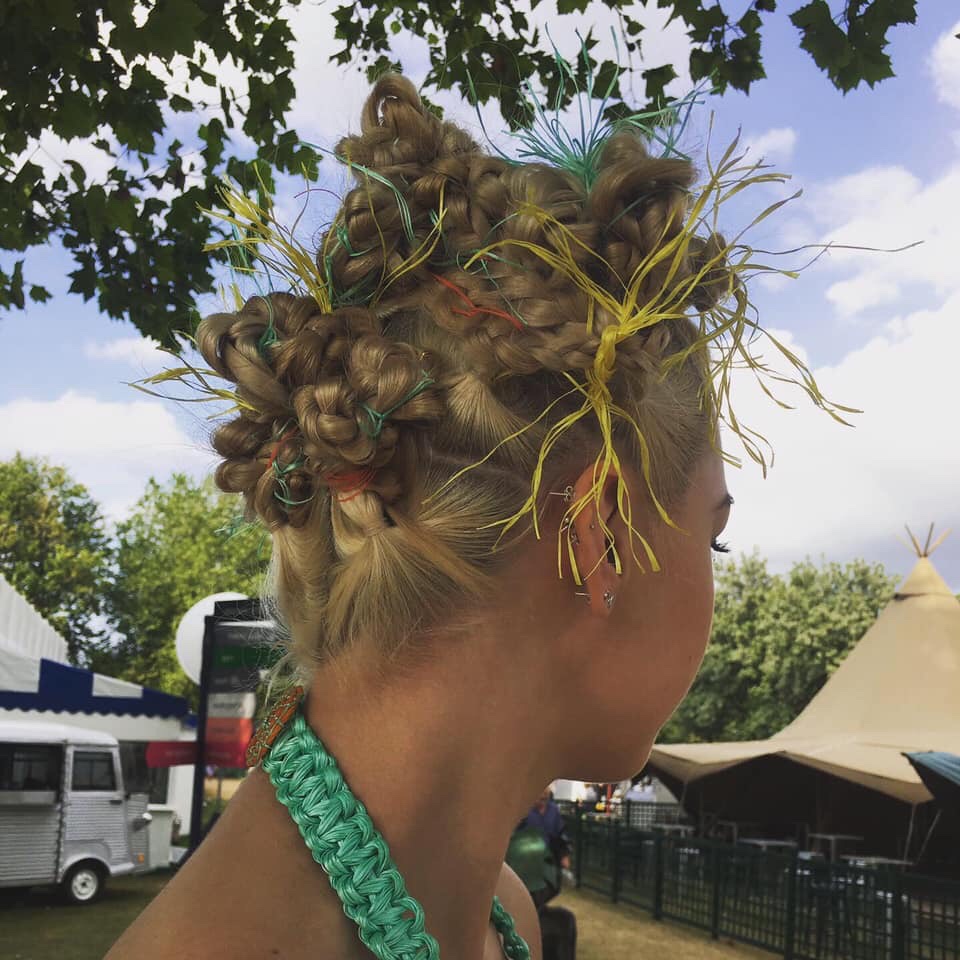 Modelled by Ellie Perryer Hair by The Salon Of Chi Director Nicole – using Luxurious Biodynamic Organic Oway products. Which are not stored in plastic bottles and can be refilled.
---
Day 5- Henley Festival 2019
Final day!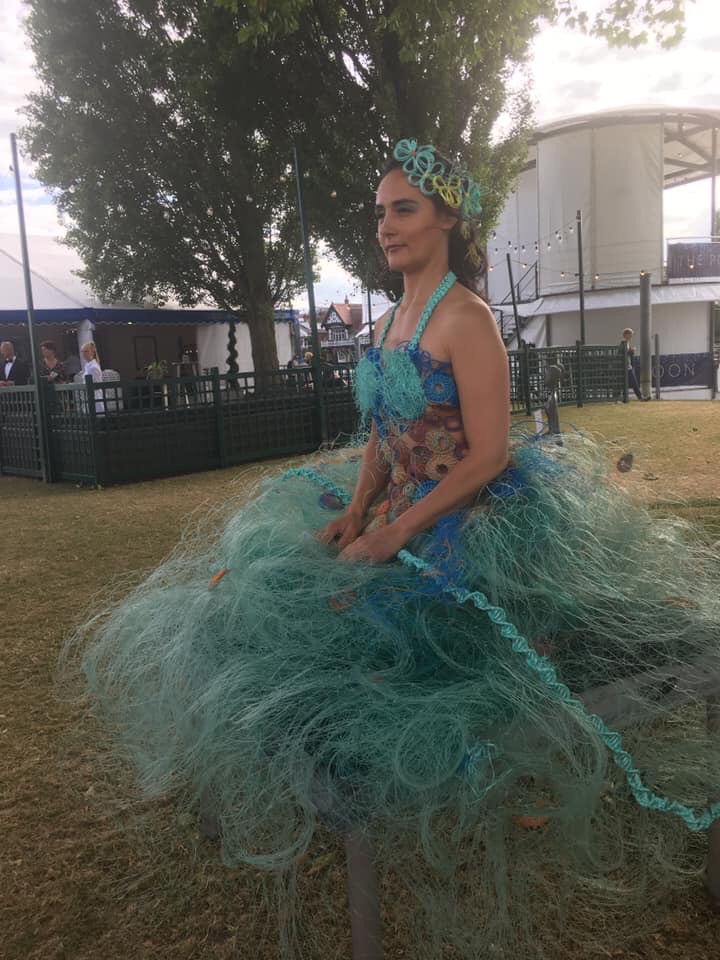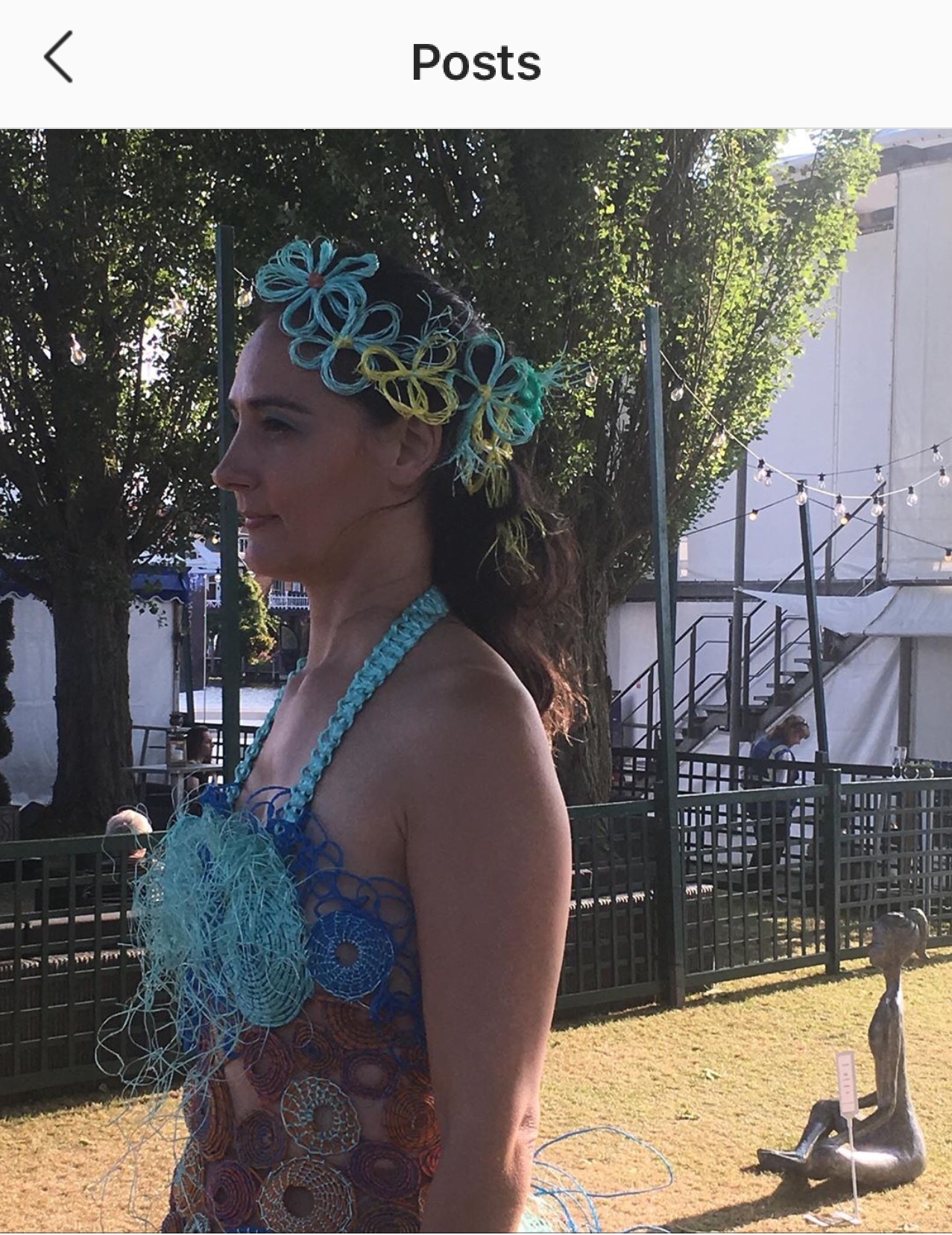 So much interest in the Ghost Net Dress again today. Tonight's hair was created by Charlotte from The Salon Of Chi Modelled by Daniela Mantica-Filippini.

Read MoreContinue Reading

Ghost nets are abandoned, lost or discarded fishing nets made from synthetic fibers that are left drifting in the world's oceans. According to marine specialists, it is estimated that 640,000 tonnes of this netting is lost internationally each year and ghost nets account for 10 percent of all trash floating in the world's oceans.